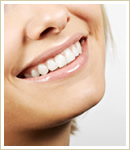 Teeth Whitening

All teeth stain and darken over time. Daily practices such as drinking coffee, tea, fizzy drinks or red wine can cause discoloration, as can simply growing older. With simple tooth whitening treatment, it's possible to reverse this process and restore your teeth to their whitest. Even blemishes and stains you thought permanent can nearly always be removed with the right treatment.
Zoom Whitening
Your teeth can be lightened in just one hour using the 'Zoom' technique, here at the practice.
Depending on the results you'd like to achieve, I can lighten your teeth by up to several shades if necessary, removing stains and blemishes to achieve a beautiful, highly natural result.
Home Whitening
If you prefer, I can provide you with a home whitening kit, specially designed for you to use at home. Rest assured, I will fully explain how to achieve the best results using this technique, but they are very simple to use, so you shouldn't have any problems.